Escape the Fate is an American post-hardcore band from Las Vegas, Nevada formed in 2004. Since forming, they have released one EP and two full-length studio albums, the most recent being This War Is Ours on October 21, 2008. Their self-titled third studio album has now been released November 2010.
In September of 2005, they won a local contest judged by My Chemical Romance which led to the band being rewarded a support slot on a tour Alkaline Trio, this this also led the newly formed band to being signed by 'Epitaph'. Before the bands success in the contest their members were named in other bands and had numerous bust-ups among themselves. In 2007 during the 'Black On Black' tour, rhythm guitarist Omar Espinosa left the band due to personal issues.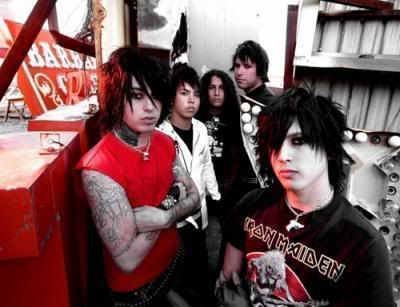 Ronnie Radke (former lead vocalist) was asked to leave the band after he was sentenced to prison for multiple run-ins with the law involving narcotics and battery for a fight that led up to the death of Michael Cook. He is in a new band named Falling in Reverse. They will begin recording their new album and touring when Ronnie gets out of prison. As stated by Max Green, "First we couldn't tour out of the country, then out of the state." After the departure of Radke, former Blessthefall vocalist Craig Mabbitt joined the band, first as a temporary replacement, and then as a permanent member.
The Nevada screamers then proceeded on to producing their first studio album in 2008 named 'This War Is Ours'. It's fast, paced and in-your-face riff's gave it the success that started to give Escape their first full tours with such bands as Attack Attack (US), Burn Halo, William Control, and Black Tide. Their songs make you feel as though you can tear your lungs apart in pure hardcore melodies, which give audiences the chance to break down and get dirty. Such songs as 'The flood', 'This War Is Ours (The Guillotine Part II' and 'Let It Go' proved that Escape has the ability to brutally produce some of the genres best songs. The album was not just technical sound in its music but with songs as 'Ashley' and 'You are so beautiful' showed their more melodic side, with more than memorable lyrics.
Escape the fate have already started to write their second studio album. Already enjoying tours around the US and UK, they have even toured Australia on the Soundwave Festival, and officially began playing 'Bad Blood' as part of their live set.
If you are a fan of the hardcore rhythm and jaw dropping riffs that this band produce then I highly recommend you listen in on this bands exciting new stuff!
Let us know what you think guys!